Selly Park Singers
In November 2015 Paul was appointed Musical Director to Selly Park Singers, a group of around thirty who meet in south Birmingham each week and perform twice each year with repertoire as wide-ranging as Byrd and Rachmaninov, masses, folk songs and jazz.
Recent concerts have included Masses by Mozart, Haydn and Dvorak alongside works by Elgar and Bach; an afternoon of Cole Porter, George Gershwin and arrangements of songs by the King's Singers; Choral Classics by Bach, Haydn and Brahms; John Rutter's The Sprig of Thyme; Jazz arrangements of popular moon-themed songs; English part-songs by composers including Parry and in June 2019 Rossini's Petite Messe Solennelle.
For further details and forthcoming concert dates and venues please visit: www.sellyparksingers.co.uk
---
The St Ignatius Singers
Paul is the Director of Music to The St Ignatius Singers, a choir of twenty inaugurated in October 2016 who sing for services at various places around the West Midlands. Churches they have been to sing in include Christ Church, Coseley; St Mary's, Handsworth; Holy Trinity, Wordsley; St Francis, Bournville; St Alban's, Highgate, St Michael, Baddesley Clinton and St Michael and All Angels, Tenbury. Services have included Choral Eucharist, Choral Mattins, Choral Evensong, Advent Carol Service and All Souls' Requiem.
What an amazing service at Christ Church this evening… A big thank you to the 300+ Coseley Folk who came along… We were treated to exceptional music by the hugely talented Paul Carr, Paul Hodgetts, and the St Ignatius Singers…
Rev'd Emma Stanford following the Tree of Light and Advent Carol Service in Coseley.
Highlights in 2019 included singing Choral Evensong in Coventry Cathedral and at the James Watt bicentennial service in St Mary's, Handsworth which was also the day the church reopened after months of extensive reordering work.
Plans for 2020, which included a concert in Holy Trinity Amblecote, Choral Evensong at Bournville and Advent Carols at Coseley, all had to be cancelled due to the Coronavirus pandemic. 
---
Other Choral Directing
St Bart's Penn Spring 2019

From January until Easter Day April 21st 2019 Paul stood in as choir director at St Bart's Penn, where he is one of the organists. During the term the choir rehearsed on Friday evenings and a further practice before singing full Choral Evensong each Sunday evening. Repertoire included canticles by Stanford, Sumsion, Howells, Harwood and Walmisley, Responses by Sumsion, Rose and Smith, and anthems by Bach, Farrant, Wesley, Mathias, Lloyd and Howells.
3-Shires Festival Choir 2018
In 2018 Paul directed the festival choir at the inaugural 3-Shires Festival. The large choir sang for Choral Evensong which included Parry's I was Glad and Noble's Magnificat and Nunc Dimittis in B minor.
Black Country Music Education Hubs Choir 2017
In the first half of 2017 Paul directed the specially-formed Black Country Music Education Hubs Choir in preparation for their appearance as part of the BBC Proms Youth Choir at the First Night of the Proms, performing John Adams' 'Harmonium' with the BBC Symphony Chorus and BBC Symphony Orchestra.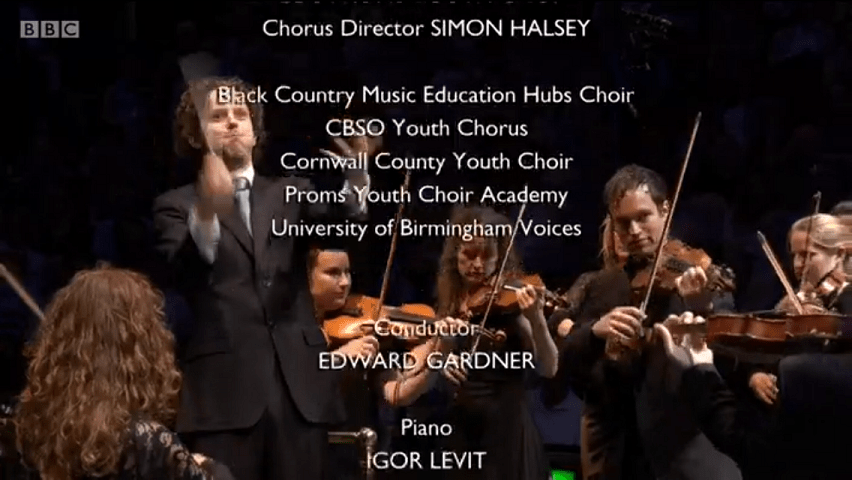 St Paul's in the Jewellery Quarter, Birmingham 2003-2016
Paul was Director of Music at St Paul's in the Jewellery Quarter in the city centre of Birmingham for 13 years from September 2003.
Unusually the choir of adults sang all year round, rather than termly, alternating full Choral Evensong with Choral Eucharist. Alongside this weekly schedule the choir also sang an Advent Carol Service, Christmas Midnight Mass, Stations of the Cross during Passiontide, a Midnight Mass for Easter, a Requiem for All Souls and at various concerts.
Under Paul's direction St Paul's choir sought to work collaboratively. In 2014 a new unaccompanied setting of the Requiem was commissioned from Calum Carswell. The choir premiered this work on Remembrance Sunday.
Other new works and first performances given while Paul was Director of Music included works by Fraser Wilson, John Warren (UK premiere of Prayer of Ignatius of Loyola just a few weeks after its world premiere, by Fourth Presbyterian Church in Chicago, USA) and John Barber (Inside: Psalm 121 and Bells of St Paul's 2006, an anthem for choir, organ and handbells in celebration of the first anniversary of the new ring of 10 bells installed in St Paul's in 2005).