Sunday Afternoon Organ Music no 198-13 Online Only
August 1, 2021
:
15:00
–
15:30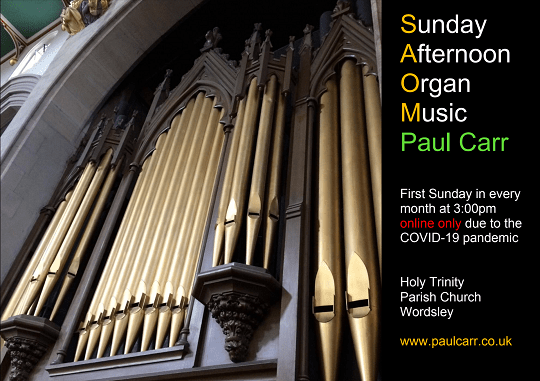 Due to the Coronavirus pandemic Sunday Afternoon Organ Music was suspended after the March 2020 programme. Although we are still unable to present Sunday Afternoon Organ Music in person, Paul Carr performs a short pre-recorded programme, as live, on the organ of Holy Trinity Wordsley each month which will be available from 3.00pm on the first Sunday in every month.
The video will be hosted on Sunday Afternoon Organ Music's Facebook page which can be found here: www.facebook.com/SundayAfternoonOrganMusic
If you don't use Facebook:
You do not have to be signed up to Facebook to view the video, simply click on 'not now' when you are asked to sign in or sign up, and carry on to the video, click play, click the full screen icon and watch it.
Facebook users:
Find and 'follow' the Sunday Afternoon Organ Music Page and you will receive notifications about the SAOM videos through your Facebook account, you can 'like' and comment on the video too.
The video will also be available on YouTube from 3:00pm until the evening that day.
Programme:
Gabriel Pierné (1863–1937)
Trois Pièces:
Prélude; Cantilène; Scherzando de Concert
Derek Bourgeois (1941-2017)
Serenade
Edwin H Lemare (1865-1934)
Symphony in G minor: Scherzo