For video recordings please visit the watch page
The first solo-recording of the magnificent Walker organ in St Chad's Cathedral.
A brilliantly-colourful programme of French and French-inspired works, chosen to match the distinctively-Gallic character of the St Chad's organ.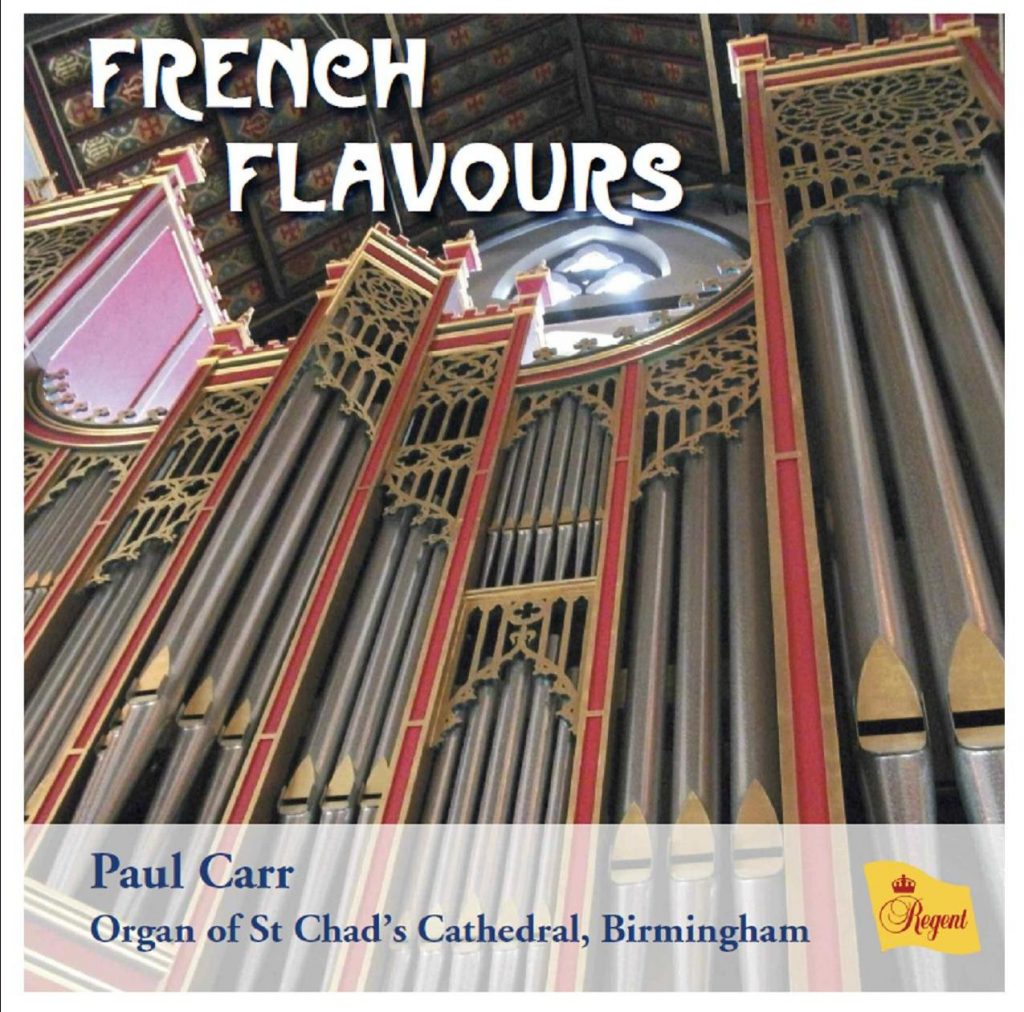 Naji Hakim (b.1955)
Ouverture Libanaise
Gerald Hendrie (b.1935) 
Toccata and Fugue in F sharp minor from Le Tombeau de Marcel Dupré
Marcel Dupré (1886–1971)
Esquisse No 1 in E minor Op 41 no 2
Esquisse No 2 in B flat minor Op 41 no 3 
Henry Purcell (1659-1695) arr. Marcel Dupré (1886–1971)
Trumpet Tune
Sergei Prokofiev (1891–1953) trans. Jean Guillou (b.1930)
March from The Love of Three Oranges
Maurice Ravel (1875–1937) trans. David Briggs (b.1962)
Daphnis et Chloé 2nd Suite: Lever du jour; Pantomime; Danse Générale
David Briggs (b.1962)
Variations on Greensleeves

Hector Berlioz (1803-1869) arr. W.T. Best (1826-1897)
Hungarian March

Gaston Litaize (1909-1991)
Scherzo from Douze Pièces
Eugène Reuchsel (1900-1988)
Nuages ensoleillés sur le Cap Nègre from Promenades en Provence
---
Reviews
Organists' Review
Editor's Choice December 2012
" …Prepare to hear more notes on one CD than most recording artists would spread over several! The assured virtuosity of Paul Carr's performances is astounding…'

Choir & Organ 
5-star review November/December 2012
" Paul Carr's richly allusive and superbly executed debut recital disc is a gourmet feast …. thrilling technical challenges of the main course (Briggs' transcription of Daphnis and Chloe Suite no 2) which succeeds at the well-nigh impossible task of capturing the essence of Ravel's glittering orchestral masterwork…. Délicieux!'
5 star rating (Graeme Kay)
www.classicalmusicsentinel.com
Editor's Pick June 2012
"… The power and brilliance of this organ shine through ….clearly demonstrates his musicianship and multi-tasking talents… Definitely an organist to follow. Regent Records have managed to capture the true essence of the organ and the space it occupies within this awesome recording…" 
Full review
RSCM Church Music Quarterly
Essential Listening June 2013
"There's an arresting opening to this CD with the Ouverture Libanaise….It adds a middle-eastern flavour to this collection of astonishing virtuosic playing… There is some skittish playing of the Esquisses 1 and 2 by Marcel Dupré and even Prokofiev's March of the Three Oranges. Throughout, the excellent tone of the three-manual Walker organ is shown off in all its glory……culminating in an astonishing run of Eugène Reuchsel's toccata-like Nuages which is as thrilling a conclusion to this recital as is its start." 

Birmingham Post 6th September 2012
"… The fourteen items on this imaginatively programmed disc are not just purely French but include music with a Gallic flavour …. the fiendishly difficult Deux Esquisses which Carr despatches with aplomb – the second's thunderous climax particularly impressive and well captured on this recording. I was dazzled by the brilliance and chutzpah of David Briggs' transcription/recreation of three pieces from Ravel's ballet Daphnis and Chloe: The depiction of sunrise is sumptuous and in the Danse Générale Carr generates great excitement – with some neighbour-intimidating bass!"  (Norman Stinchcombe)

Naji Hakim
"Congratulations for your beautiful and demanding programme and for your splendid playing. It is most enjoyable! I am very touched and honoured that you included my Ouverture Libanaise….Your recording is really superb!"
Michael Barone – www.pipedreams.org
"French Flavours – Bravo! I can happily attest to the astounding qualities of this CD… fresh and uncommon repertoire, vibrant and musical interpretations and a beautifully recorded, exciting instrument. What's not to like!!? The PIPEDREAMS 'seal of approval' is hereby granted… five stars. Congratulations on taking 'the path less travelled'. It is refreshing to hear you play pieces that, for the most part, are not often recorded (if ever), but are all definitely worth hearing. Having just returned from 15 days in England… …your demo of the organ at St. Chad's has added to my appreciation. Superbly accomplished. Thank you!"        

The Diapason
"…Carr's performance is stylish and classy throughout – his playing is nimble, subtle and musical, bursting with energy and panache, aided by an extraordinary technique; every phrase is imbued with his supreme musicianship, as he lifts the notes from off the page and turns them into the most skilful of performances. The Walker organ sounds magnificent throughout…."
---
Other recordings featuring Paul Carr accompanying choirs
Click on the image for further details or to purchase.