Bach Organ Recital: St Mary's Quarry Street, Guildford
13th July 2022
'Thank you so much for a quite outstanding recital today. I remain in awe of the complete clarity and mastery of your playing and would never have believed that the Passacaglia was possible on the Quarry Street instrument…' MB
Lunchtime Organ Concert: St David's Hall, Cardiff
19th October 2021
'Throughly enjoyed the programme, expertly registered and played showing off the organ's versatile array of colours.' JM
Evening Organ Recital: Lichfield Cathedral
24th September 2021
'…Paul closed his recital with his own imaginative arrangement of Tchaikovsky's Waltz of the Flowers, from The Nutcracker Suite, with initially delicate arpeggios imitating a harp, before building to the final full organ climax. …I've rarely heard a visiting organist to the Cathedral perform such a well-constructed programme so superbly, with registrations beautifully judged to bring out the best of the Hill organ and the nave division. A terrific recital by Paul Carr.' LDOA Newsletter
Thursday Live Organ Recital: St Chad's Cathedral, Birmingham. Online Only.
4th March 2021
'Few people can pull off a French toccata as well as Paul, and you won't be disappointed by his Gigout…' SP on Twitter
Organ Recital; Rochdale Town Hall
10th October 2020
'Paul Carr, our WOA vice-chairman, did manage at last to play a live public recital for what had been planned as the Brereton Memorial Recital at Rochdale Town Hall. Fifity people attended under strict distancing and there was no charge. It was a fine recital where he played 11 pieces which showed off the wonderful stops of this fine Binns organ, but also his command of the instrument and his amazing dexterity in performing using so much hand registration!' JC – Worcestershire Organists' Association Newsletter
Organ Recital for Alton Organ Society; St Laurence, Alton
7th January 2020
'2020 got off to a tremendous start on Tuesday 7 Jan when newcomer to Alton, Paul Carr, gave a most stunning organ concert. He opened his eclectic programme with his own arrangement of Johann Strauss II Overture to Die Fledermaus. What a start it was – demonstrating manual dexterity, absolute command of the instrument, maximum use of the organs colours and, overall, a standard that caused a widespread jaw dropping "wow" factor and spontaneous applause! (Usually, we reserve applause at the start and end of concerts but this was from the heart) Thereon, Paul's programme went from strength to strength underlining this man's utter professionalism. His programme was varied in taste and all pieces were delivered with expertise and musicianship of the highest order. A full review will follow but to see what you may have missed, Paul's programme is shown here. Having ended on a high playing Vierne's Symphony No 6: Final, Paul added as an encore, John Stanley's (1713-86) B flat Trumpet Voluntary. The overall opinion from the audience was we must invite Paul back to Alton…soon!' AOS
Organ Recital; Wesley Methodist Centre, Chester
23rd November 2019
'…thank you very much indeed for your excellent and most enjoyable recital at Wesley last Saturday. You presented a very well balanced programme to show off the facets of the organ and also to appeal to the audience. …. Your introductions were just right and we had a lot of very appreciative comments about the recital from those who came.' BH
Organ Recital; Great Malvern Priory
2nd November 2019
'I trust that I don't need to say much about your recital – I hope that the applause said it all! However, I will add my comments to all the others I heard – that it was an absolutely stunning performance. The varied programme content was exactly what our audience like and was enjoyed by all.' GF
Lunchtime Organ Recital; Royal Hospital School Chapel, Holbrook
1st April 2019
'As I have come to expect of your performances Paul, the playing was of the highest order in every respect, and what a magnificent instrument on which to demonstrate your amazing ability, …your rip-roaring rendition of the "Bizet" was tremendous.' EG
Grand Re-opening Organ Concert; Holy Trinity, Llandudno
10th July 2018
'Very many thanks, Paul, for your splendid recital for our Grand Re-opening of the Organ – the programme was absolutely perfect for our audience, our organ and the occasion – it made the recital really easy to sell and resulted in the Church being full to capacity which was wonderful. Your playing, as always, was stunning and our audience went home very happy – thank you so much for making our Grand Re-opening Concert such a successful and happy occasion… We do hope you will come and play for us again.' CJ
Bournville Lunchtime Concerts
16th March 2018
'It was all wonderful yesterday but your individual imagination in the Beethoven and the Whitlock (would never have thought of that pairing before yesterday) quite took my breath away. If I did not have respect for the evidence of my ears I would have thought I was dreaming! Thanks so much.' RB
Salisbury Cathedral
30th August 2017
'Thanks for a superb recital Wednesday evening…. This was my first live experience of the Salisbury Willis and it certainly is an impressive instrument. Choice of programme also provided new experiences including the Bossi Etude, which was a real delight. Thanks especially for the Bach Sinfonia encore, which is a personal favourite transcribed for organ. Registered in a way I feel sure JSB would have used that mighty machine had it been available!….' JM
'What tremendous pleasure it gave me to be present at your usual impeccable performance on that magnificent instrument, and I have a feeling, that to a greater or lesser degree, you are inspired by the particular organ you are playing at the time, and in this case I am literally running out of superlatives to describe what I was hearing… thanks for a memorable occasion.' EG
Cathédrale Notre-Dame de Paris
8th April 2017
'…What an absolutely tremendous recital you gave – what a delight to hear Harris, Wesley, Bairstow etc… I thought you managed to do justice to both the Englishness of the compositions and the French-ness of the building, audience and organ. It was clear that the French audience loved the whole experience……Very warmest congratulations – you took masterful control of the mighty Notre-Dame organ…'. MH
Holy Trinity, Llandudno
23rd August 2016
'…Many thanks to you for your perfect programme and splendid playing. I've spent a life-time promoting the organ and its music and your recital will have made many converts who will come back for more…' CJ
Victoria Hall, Hanley
20th August 2016
"You played an outstanding Organ Prom again, and the audience really did appreciate it… Programme, playing and registrations were, as usual, to the highest standards….hope that you will return again."


Magdeburg Cathedral, Germany
29th May 2016 Orgelpunkt Magdeburg
'…Ein glänzend aufgelegter Paul Carr zeigte in einem wahren Feuerwerk abwechslungsreicher Werke mit hohen Tempi und farbigen Registrierungen ("More Organ Fireworks") sein enormes virtuoses sowie künstlerisches Können und begeisterte das Publikum mit technischer Brillanz und musikalischem Einfühlungsvermögen…'


St John the Baptist, Cardiff
13th May 2016
'Many thanks for your concert in St John's last Friday. Without exception, everyone really enjoyed your playing and also your programme….'.
Fourth Presbyterian Church, Chicago, USA
Dedication Concert on the new Andrew Pipe Organ (Quimby Pipe Organs)
April 9th 2016
'Paul Carr's dedication concert of the new Quimby organ at Fourth Presbyterian Church in Chicago was absolutely electrifying and he received an instant standing ovation from the hundreds of enthusiastic people that attended.
He brought out so many colors from the organ, creating wonderful effects and a huge range of expression. His technical abilities made even the most difficult of pieces sound easy, yet he always played with a musical expression perfectly suited for each piece. His comments between pieces were delightful and helped the audience enjoy the concert even more. If every organ concert was as enjoyable as the one played by Paul Carr, organ concerts would be packed to the rafters.'
St Mary Redcliffe, Bristol
10th March 2016
'The programme choice was inspirationally selected to show the Harrison at its best. Also with some pieces that are not regularly heard but much appreciated for inclusion….. Your playing was exquisite, hope that we can welcome you back in a future season. Sincere thanks….' JM
Bath Abbey
26th August 2015
'I was one of the fortunate people to attend your wonderful recital on Wednesday. It was a bravura performance….May I offer my sincere thanks for an stimulating and interesting programme brilliantly executed, introducing many of us to some new pieces. I liked especially the harmonics in the jazz chorale prelude and of course the Bach. It was good to hear the tonal capabilities of the Klais organ used to such good effect'.
Coventry Cathedral
3rd August 2015
'I just had to convey to you how wonderful your recital was. There were times when tears were literally rolling down my cheeks. The pieces in particular were Pastoral Pour Orgue and Esquisse 2. I am a regular at the Monday recitals and the standard of playing is generally very good, but I have never heard the Harrison and Harrison organ sound like it did yesterday. I was the guy who bought the CD at the end of the performance, and the CD does not disappoint. Thank you so much'
'I attended your recital at Coventry Cathedral this Monday lunch time. I thought it was wonderful ! Thank you very much. I had never heard the Ducasse Pastorale before, a very interesting piece!'
St Chad's, Shrewsbury
21st July 2015
'What a splendid recital! Once again you've raised the bar for the rest of us. Much enjoyed…..'
Magdeburg Cathedral, Germany
12th July 2015
'Ein hochvirtuoses Orgelkonzert erlebten über 400 begeisterte Besucherinnen und Besucherinnen am letzten Sonntag. Paul Carr aus Birmingham zeigte sein ganzes künstlerisches und virtuoses Können mit äußerst schwierigen Orgelwerken und bewies, was die große Domorgel zu leisten vermag..'
'More than 400 enthusiastic visitors experienced a highly-virtuosic organ concert last Sunday. Paul Carr from Birmingham showed all his artistic and virtuoso skills with extremely difficult organ works and demonstrated what the great cathedral organ is capable of…' Orgelpunkt Magdeburg

St Saviour's Eastbourne
25th May 2015
'..Fabulous recital! Thank you Paul. Wonderful playing..Please come again!'
Hereford Cathedral
13th August 2013
'… thank you for an excellent recital at Hereford last week. It was a splendid, musicianly, treat of well-judged accessible music…' PW
Birmingham Town Hall
26th July 2013
'…Thank you for the tremendous performance you put on for the DNA Conference gala dinner; the feedback from the delegates was amazing, they loved every minute of it. We will in future be recommending you…' University of Birmingham

Christchurch Priory
25th October 2012
'I mailed you last year to congratulate you on a magnificent performance, and felt I must do the same this year. It was wonderful to hear and behold. As a regular attender of the series over many years …I can honestly say that your recitals are among the best ever, and this is from one who has been an avid recital devotee over many years in my travels all over this country at all the famous venues… You have a winning combination, namely the ability to put together a varied programme of interest with major organ works and good transcriptions of other origin which come off spectacularly on the organ, with a stunning technique…' EG
Christchurch Priory
24th November 2011
'I felt I had to congratulate you on your magnificent performance on Thursday. The programme choice was excellent…..your organ management was exemplary….. your technique appeared to be flawless… Once again a very heartfelt thank you for a tremendous performance.' EG

Halifax Minster
13th October 2011
'I really must thank you for a truly splendid recital. It was certainly one of the most memorable in recent years. We were particularly impressed with the choice of programme, admirably suited to our fine instrument, and with the very colourful registration…' PT
'Thank you very much for an enjoyable concert yesterday at Halifax. Both my sister and I thought it was one of the best we have heard on the organ…' GG
Westminster Cathedral, London
Grand Organ Recital
25th September 2011
'Blistering playing. Very well done indeed!' JW

Symphony Hall, Birmingham – Concert for Friends of THSH
10th July 2011
'It was a fantastic experience…. an excellent programme that demonstrated the full capabilities
of this wonderful instrument…' TF
"What a brilliant experience for us – never to be forgotten.' JA

Wellington Methodist Church, Telford
1st July 2011
'…Such a lovely programme of music beautifully played with terrific sparkle and enthusiasm…' MD
Malvern Priory
27th November 2010
'I am writing on behalf of us all at the Priory to thank you for your excellent and brilliantly played recital on Saturday. I appreciated the range of interesting works in your recital, as I did at your Birmingham recital, and this was the sentiment expressed by those I spoke to afterwards. We hope you enjoyed your visit to Malvern and I look forward to seeing you again soon'. GF

Thursday Live St Paul's in the Jewellery Quarter, Birmingham
Thursday 4th November 2010
'Super recital yesterday – particularly enjoyed the Vierne and the Bach (very stylish)' DG
'Lovely organ recital. The Bach was amazing, and of course the V.W. is a favourite of mine' MR
20th Anniversary Recital at Broadway United Reformed Church, Walsall
September 2010
'Just to say another big thank you for yesterday. Folk at church were still enthusing about your recital after today's morning service. As I said at the end of the evening, the organ couldn't have wished for a better 20th birthday present'. DAT
Lichfield Cathedral
31st May 2010
'Altogether a lively and immaculately performed programme'
Lichfield and District Organists' Association
Birmingham Town Hall Lunchtime Organ Concert
Monday 22nd February 2010


'As a regular attender at both the TH/SH Monday recitals and the Thursday Live recitals, can I say a big thank you for today. I hope that you got as much pleasure from playing the splendid TH organ as we did listening to you. You will be amused to know that the box office ticket system could not cope with the number of tickets issued and broke down! We were issued with hand written tickets!' JA
'Thanks once again for your excellent concert playing today…. I thought your handling of the resources of the organ was outstanding, and showed an understanding of the instrument. You also transmitted your enthusiasm to the listener.' JS
'Congratulations on a wonderful debut performance at the Town Hall. The programme was a clever mix of styles showing off the organ to full advantage, not to mention your playing! I hope that this will be the first of many…. I sensed an atmosphere of enjoyment and participation in the gallery…' MR
'I felt I must repeat what I said earlier which is how wonderful was your recital today at the Town Hall. You obviously put a huge amount of work into this, especially the registering. I am so pleased that it was greeted by great acclaim by the enthusiastic audience.' MS
'Many thanks for a superb recital at TH today. It was fine in all regards and the programme was really a good Town Hall one.' MR
Kelvingrove Museum and Art Gallery, Glasgow – Weekend of recitals
July 2009
'Thank you for a fantastic recital at Kelvingrove and you certainly handled the organ excellently with judicious hand registration. I take my hat off to you for your virtuoso pedalling and crystal-clear fingerwork in the Bach; and I loved the broad pacing and telling silences in the Vierne and Widor pieces – so appropriate for the gallery's spacious acoustic. Hopefully you'll return and play again in the near future.' CN
Birmingham Cathedral
June 2009
'What a magnificent recital it was: varied, colourful and exciting. … It was just a joy to hear your superb performance – a real privilege, in fact; and to listen to your commentary.' GEB
Thursday Live – St Paul's in the Jewellery Quarter, Birmingham
Thursday 6th November 2008
Lunch Break: Paul Carr
What: Paul Carr gives the latest in his monthly series of organ recitals. It lasts less than an hour and the programme is – as always with Carr – colourful and entertaining. Standard organ classics by J.S. Bach, and honorary Brummie, Felix Mendelssohn, jostle with the pure noisy fun of Handel's Fireworks Music, as well as a rarely heard miniature by Saint-Saëns.
Why: Carr's enthusiasm is infectious. This is a man who gave 100 organ recitals in a ten-year period in the improbable setting of Cradley Heath Methodist Church, and then, when the church closed in 2004, personally arranged for the vintage organ to be dismantled, shipped halfway around the world, and rebuilt in China. Carr's lunchtime recitals at St Paul's (where he's now Director of Music) are a labour of love. And it shows: His programmes are a mixture of the classic and the irreverent.
Richard Bratby: The Metro: Tuesday 4th November 2008 www.metro.co.uk
Victoria Hall Hanley
Saturday 11th October 2008
SATURDAY'S excellent Organ Prom by Paul Carr was another feather in the cap for Michael Rhodes, the organiser. Carr chose three military pieces to form a framework to the whole. These were Schubert's Marche Militaire, Lefébure-Wély's March in C and the encore, the Radetsky March by Strauss, complete with audience clapping, all of a secular flavour and evoking a fairground atmosphere with lots of candy floss.
Unusual was the Blues Chorale by Kiefer with lively pedal passages and juicy jazz chords to finish. By contrast, the pièce de résistance was the great organ virtuoso Guilmant's 'Sonata' in the dramatic key of D minor. A piece of nobleness, heroism, gentleness and many other worthy qualities, Carr highlighted the different moods with expertise, saving the thrilling firework display with its intermittent chorale for the Final.
Another Frenchman, Josef Bonnet's Elfes in the form of a Scherzo for flutes, captured the skittishness of these creatures. As Carr said himself, Grieg's Peer Gynt Suite, from which we heard four movements, works well in its organ transcription and In The Hall of the Mountain King was grandiose and threatening.
David Burrowes; The Sentinel www.thisisstaffordshire.co.uk: Monday 13th October 2008
Diocesan Service at Holy Trinity Wordsley
21st May 2009
'…You have a way of picking up what was intended and taking it onto another plane…." FT
Inaugural Organ Recital at St Mary's Hobs Moat
April 2009
'If you weren't there you must surely have heard by now about the event. The church has been buzzing with the chat about it. Paul Carr gave a stunning recital on our organ…..a brilliant performance of the Prelude and Fugue in D by Bach to open the recital'
The Moat
Organ Prom at Victoria Hall, Hanley
11th October 2008
'I must immediately write to say how excellent was your programme and playing today. The Guilmant 1 was certainly a tour de force of the utmost virtuosity, – electrifying and uplifting' MS

Cathédrale Notre-Dame de Paris – Audition d'orgue
Sunday 17th August 2008
'Such a brilliant recital – just thrilling' RM
'What a wonderful concert! I really think you made the most out of the organ!' AM
'What a wonderful experience our visit to Paris proved to be, with your very exciting recital at Notre-Dame. Such an attentive, large audience. Such expressive playing. Congratulations Paul. All good wishes' GR
'My family and I attended the audition d'orgue at Notre-Dame de Paris. May I congratulate you on your performance, especially the Fugue sur le Carillon des Heures ….. by Maurice Duruflé' EJ

Organ and Piano Duets Concert with Michael Jones – Wylde Green URC
18th November 2007
'Thanks again to you and Michael for an excellent concert last night… it was a pleasure for me to hear the two instruments played together so expertly. I particularly enjoyed the Dupré, but thought all of the pieces were worthy of hearing…. it's good for all of us to have our horizons expanded by being introduced to different repertoire… kind regards, PB
50th concert of Sunday Afternoon Organ Music at Holy Trinity Parish Church, Wordsley
4th November 2007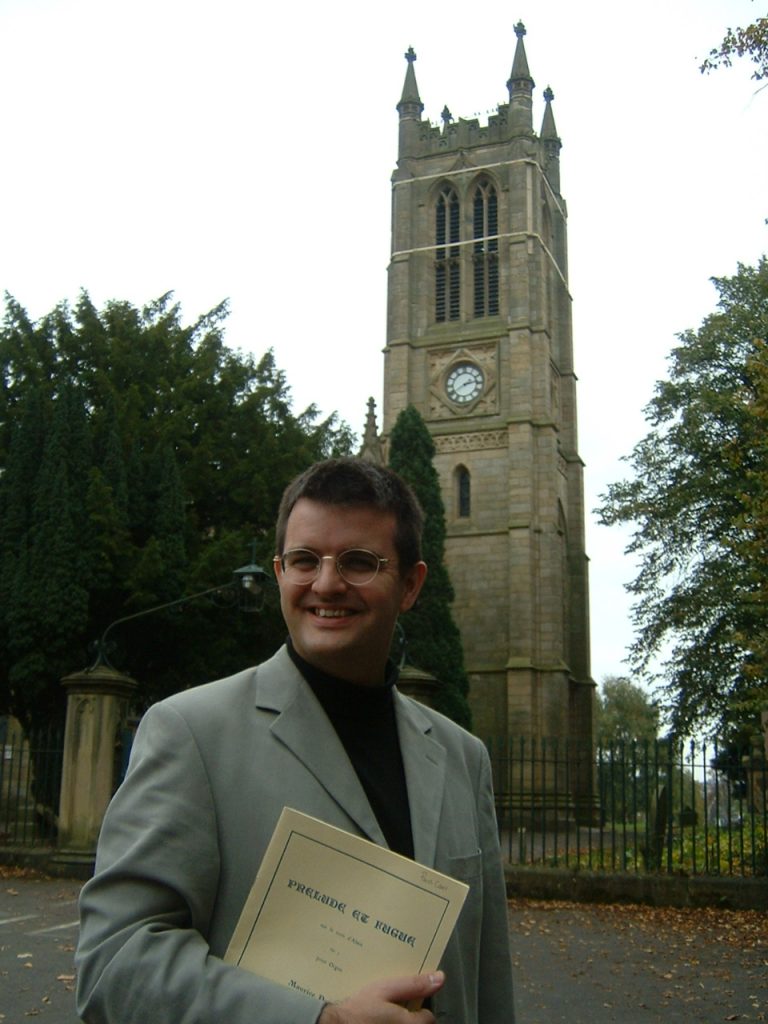 ORGANIST PAUL REACHES GOLDEN MILESTONE
Midlands' virtuoso organist Paul Carr will celebrate a musical milestone on Sunday 4th November 2007, when he plays his 50th concert of Sunday Afternoon Organ Music at Holy Trinity Parish Church, Wordsley.
Since 2003 Paul has thrilled audiences on the first Sunday of each month with his 45-minute concerts of organ music ranging from well-known orchestral transcriptions, such as the William Tell Overture, tocomplete organ symphonies by Widor. A large video image is projected showing Paul in action at the 3-keyboard, 44-stop console. Paul, whose 2008 engagements include concerts at Blenheim Palace, Rochdale Town Hall and Notre-Dame Cathedral in Paris, said "I was delighted to be invited to start my series in Wordsley four years ago. Playing the organ is the best thing in the world and it is fabulous to be able to share this each month. Holy Trinity Church is blessed with a fine instrument which is bracing itself for the next 50 concerts!"
The concert, entitled 'Organ Fireworks' kicks off at 3.00pm with the American March by Widor and will include a jazzy Blues Chorale by Kiefer and other pieces by Reger, Duruflé and Langlais. Admission is free.
The Express and Star, October 2007
Truro Cathedral
17th August 2007


'Just a short note to say how much we enjoyed your recital in Truro Cathedral on the 17th August – highlight of the holiday! I had not heard the Organ Sonata in A Minor by William Harris before and thought it was magnificent.
Thank you…… for providing us with such enjoyment and memories of your performance on that wonderful Willis organ.
It was good to hear that you will be at Truro again, hope to be there to enjoy another spectacular performance.' PE

Alexandra Palace, London
4th July 2007
www.allypallyorgan.org.uk/news.php
Paul Carr, Director of Music at St. Paul's Church in the Jewellery Quarter of Birmingham, paid his first, and we hope not last, visit to the Palace to delight us with a well-chosen programme of mainly American music on Independence Day, 4th July. His programme also included a performance of Marcel Dupré's Prelude & Fugue in G minor, in honour of the composer's famous association with the organ.
The organ appreciated the humid weather and it has seldom sounded better. Perhaps the highlights of the first half of Paul's recital were the Variations on America by Charles Ives, of course our national anthem, the Trumpet Tune in F Majorby David Johnson and a stunning performance of John Philip Sousa's march The Liberty Bell. The second half started with another Sousa march, The Stars & Stripes Forever and continued with another trumpet tune by Johnson, this time in G. This was followed by The Star Spangled Banner Concert Variations by Dudley Buck. A member of the Palace staff was observed discreetly dancing at the back of the Great Hall to Scott Joplin's The Entertainer and the programme concluded with Garth Edmundson's Toccata on Vom Himmel Hoch.
Paul Carr played with great panache and used the organ, which he so obviously enjoyed, across its full range of tonal expressions. He introduced each half of the concert from the floor to a thoroughly delighted and appreciative audience.
Recital at All Saints', Culmington
28th April 2007
'Paul, all the thanks must come from us for coming over and playing so beautifully and making that little organ sing and dance. Everyone is still talking about it. Perhaps when you have time later in the year you would come back and play again? Thank you so much, it was a wonderful evening.' JH
Gospel Improvisations, St Paul's, Birmingham
3rd April 2007
'…I am so glad that I came tonight. Thank you very much indeed for some very moving music.' SW
Sunday Afternoon Organ Music at Holy Trinity Parish Church, Wordsley
1st April 2007
'Another excellent programme on Sunday 1st April…… Paul Carr, as always, was on top form with his performance of Vierne's sublime fourth symphony. Also included in the afternoon concert was the Fanfare in D by Lemmens, expertly accomplished.' Stourbridge News
Victoria Hall, Hanley
Saturday 13th January 2007
'…Many thanks for playing such an excellent Organ Prom at Hanley. You certainly took the punters by storm here and they loved your programme and very musical playing, with admirable stop registrations. I do hope that you will come again'. MR
'Thanks for Saturday Paul and congratulations on your superb Organ Prom! Very best wishes to you and Hannah, not forgetting Snoopie, of course.' BH
TEACHER'S MASTERCLASS
Paul Carr is a primary school teacher who also travels the world giving concerts. And Carr, who played Saturday's Organ Prom in Hanley, made a thoroughly good job of it.
He not only put the Victoria Hall's magnificent instrument – built in 1888 and enlarged by the formidable Henry Willis in 1922 – through its paces, but he chose a most interesting programme and spoke just enough about it to keep the recital interesting.
Carr's opener was strong and noisy as he caught and exploited all the tunes and colours of Johann Strauss the Younger's Die Fledermaus overture in an arrangement that Carr had made himself. Then three of the numerous pieces for musical clocks composed by Haydn helped restore the audience's adrenalin flow to more reasonable proportions. Another arrangement, this time by WT Best of the Rakoczi Match from Berlioz's cantata La Damnation de Faust, set the pulses running again and curiously made an appropriate prelude to Five Short Pieces by the British composer Percy Whitlock. These, especially Folk Tune, were charming, and the concluding Paean showed off an electrifying Tuba Mirabilis. Whitlock is an unjustly neglected composer; we should hear more of his music.
Fantasie on two English Melodies – written by that doyen of Parisian organists, Alexandre Guilmant – was pleasing to the ear, particularly the part themed on Home Sweet Home. There followed another Paul Carr arrangement, this one of Rachmaninov's Vocalise, a piece composed, as the title implies, for voice without words. A sprightly performance of Dvorak's Hungarian Dance No 1, in the David Briggs arrangement, rang down the curtain save for the encore, which ushered out the recital as it had been ushered in – by another bright sample of music from Vienna, this time the Radetzky March.
Eric Snape: The Sentinel: Monday 15th January 2007
Sunday Afternoon Organ Music at Holy Trinity Parish Church, Wordsley
3rd September 2006
'Paul's skilled and masterly transcriptions for organ bring absolute delight to all that are privileged to see and listen.' Stourbridge News
Hereford Cathedral
29th August 2006
'Hello Paul, what a wonderful recital you gave here last Tuesday; I thought your programme was superb…..your choice was perfect and ideal. I came away from the cathedral feeling quite uplifted……' MS
Recital at Wylde Green URC, Sutton Coldfield
21st May 2006
'Hi Paul, just a note to thank you for tonight's recital, which was by any standards magnificent. I appreciate you taking time from your busy schedule to do this for us, and hopefully I can persuade you to find a date in 2007 to return…' PB
Midlands' Organ Day in Worcester
September 2005
'The rhythm and clarity of your playing makes for rewarding listening…' RL
Recital at Emmanuel Church, Wylde Green
17th May 2005
'Paul, many congratulations on your splendid recital last night…you kept me engrossed! Some very interesting repertoire…You made me want to go and do some (more) practice' DG
Inaugural Organ Recital at Wylde Green United Reformed Church
Saturday 5th March 2005


CHURCH REALISES ITS PIPE DREAM
Historically, the Christian Church has always been an important advocate and patron of the arts, and here in Sutton, Wylde Green URC has had a long and honourable history of music events for several decades now. It is enjoying a new expansion of its activities, with its recent acquisition of a Yamaha Concert Grand, and the concert on Saturday celebrated the completion of a two year programme to refurbish the organ, with an organ recital and anthems for choir and organ.
To mark the centenary of the original organ the pipes were taken to the Willis factory in Liverpool and more than 200,000 individual parts were refurbished and re-installed.
For the concert the 3 manual organ console was placed in the centre, and CCTV projected onto a large screen, this gave everyone the best possible view of soloist Paul Carr. Paul Carr is Organist and Director of Music at St Paul's in the Jewellery Quarter, and a remarkably active musician and recitalist. The programme was calculated to the best effect to show off the many colours of the restored organ. Bach's Toccata and Fugue in D minor was followed by the Badinerie from his Suite no. 2, and then some pieces from the French tradition in which Vierne's Naïades from the Pièces de Fantaisie was especially impressive in its unassuming yet constant virtuosity.
The choirs' contributions were no less impressive. The main choir started with Finzi's God is gone up. From its opening fanfare to the final chords, this was a magnificent piece suitable for such a grand occasion. Other works by Elgar and Wesley were distinguished by their lovely soft singing and purposeful phrasing. Bairstow's demanding set of choral variations Blessed city, heavenly Salem received an excellent performance. The junior choir, some of whose members looked too young to be out after dark, gave a committed performance including Malcolm Archer's adaptation of Pachelbel's Canon It was good to see that the continuity of the choral tradition is being looked after so well.
Paul Carr's recital continued with several of his own arrangements, including one of the Overture to Die Fledermaus. This was a splendidly technicolour transcription, and it was startling to hear such well known tunes emerge in flamboyant new clothes. Taken at a whirlwind tempo it brought the house down. The whole evening was a heart-warming family occasion, marked at the end by two encores, a round of applause for the organ builder, (present in the audience) thanks to the organisers of the organ appeal, the donators of funds, including Sutton Municipal Charities and, of course, Widor's Toccata as a grand finale.
The banner on the church wall reads "Thank God for music" This church is doing that extremely well.
John Gough: Sutton Coldfield News